Hey everyone! I know it's been awhile, and I should've have posted yesterday to be back on track, but everything has been hectic lately. I've been very focused on my school work and applying for college, so I needed to take a small break from posting. As of now, I am finished with my applications (which is so scary!), and I am ready to back into the weekly schedule of posting on Sundays. There will be a few more posts to catch you guys up on my life, but get ready for your weekly posts again! On another note, I have been writing for
Affinity Magazine
, and
GLUE Magazine
to further expand my writing. Both are teen run magazines, and super fun to be apart of! You can see all my posts in the tab on the top of the page called,
'Other Places I Write'
.
Another reason why I haven't been posting lately is that I have been planning a feminism/gender equality summit at my school, and that has taken up a lot of my time. I am the co-president of my school's feminism club, which put me in the position to plan the summit, and it has been a lot of work but I am so excited for it. Some of the speakers are Maria Cuomo Cole, Doreen St.Felix, Jeannie Gaffigan, and so many other wonderful people. I can't wait to meet them, and write all about it!
Every year I write about Halloween (ex:
2015
and
2016
) and this year is no different, despite it being a few weeks late. This year, I dressed up as Steven Hyde from That 70's Show. The actor, Danny Masterson, has been accused of sexual assault recently, so as much as I am not a fan of him; Hyde is one of my favorite characters from the show.
My Outfit
Denim Jacket - Forever 21
Patched Jeans - American Eagle
Turquoise Socks - American Eagle (?) - purchased in 2015
Keith Richards for President shirt
Pink Sunglasses - Urban Outfitters
Gray Turtleneck - L.L. Bean
Adidas Stan Smiths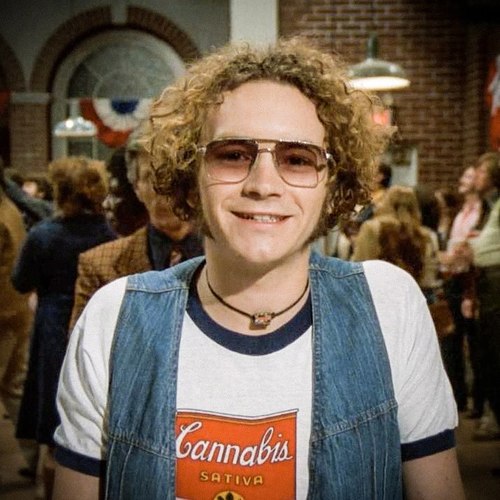 Picture of Steven Hyde from That 70s' Show
My friends and I went to the Metropolitan Museum of Art to take photos in our costumes.
Trudi was dressed as a fairy.
Marina was dressed as a character from Stranger Things (so...80s style).
Nikki was dressed up as a bear.
Almost everything thing I am wearing is my own. The only thing I borrowed was the Keith Richards shirt because the only band t-shirt I own is One Direction from 2013.
What did you dress up as for Halloween this year? I hope you liked this post, and I will be back with another one in a few days!
xx
Christina Madeleine